http://www.bbc.com/news/world-middle-east-39529264
---
POTUS DT APPROVED MILITARY ACTION AGAINST SYRIA on APRIL 6, 2017.
Republicans generally were quick to speak out in support of the president's action. Sens. John McCain (R-AZ) and Lindsey Graham (R-SC) — leaders of the GOP's interventionist wing who have long pushed for greater US military action against the Syrian regime, and who have been harsh critics of Trump — praised the move in a joint statement.
Sen. Marco Rubio (R-FL), who is also one of the more hawkish Republicans in Congress, similarly praised the strikes. "President Trump has made it clear to Assad and those who empower him that the days of committing war crimes with impunity are over," he said. He also called for a "comprehensive strategy" going forward.
Rep. Carlos Curbelo (R-FL), who represents a swing district in Florida, praised Trump for not seeking congressional approval for the strikes.
Sen. Rand Paul (R-KY), who has long vocally criticized his party's interventionist wing, spoke out against this strike, saying it will do "nothing to make us safer."
Other Republicans with libertarian leanings, like Rep. Justin Amash (R-MI) and Rep. Tom Massie (R-KY), another non-interventionist libertarian, also criticized Trump for not seeking congressional approval.
Rep. Adam Schiff (D-CA), the top Democrat on the House Intelligence Committee, had a restrained but somewhat critical take in an MSNBC appearance, saying, "It does concern me that we not have an impulsive administration, that is ready to completely change direction, that isn't necessarily thinking through what are the consequences here."
Meanwhile, Rep. Eliot Engel (D-NY), the top Democrat on the House Foreign Affairs Committee and a critic of President Obama's Syria policy, praised the strikes as "an appropriate response" to the gas attack, saying "war crimes must have consequences." However, he added, "military force against Assad can only continue in the long term with Congressional approval."
Meanwhile, some Democratic members of Congress with military experience, like Rep. Seth Moulton (D-MA), a former Marine Corps officer, and Rep. Ted Lieu (D-CA), a colonel in the Air Force reserves, minced no words in their criticism of Trump's action.
Rep. Barbara Lee (D-CA), who was famously the only member of Congress to vote against a broad authorization for the use of military force shortly after the 9/11 attacks, called on Congress to come back into session and debate the matter.
Former Democratic vice presidential nominee Tim Kaine (D-VA) called the strikes "unlawful" because Trump did not get congressional approval.
Sen. Elizabeth Warren (D-MA) said in a statement the Syrian regime "must be held accountable" for its "horrific act," but also said Trump should have sought congressional approval. "We should not escalate this conflict without clear goals and a plan to achieve them," Warren continued.
Sen. Chris Coons (D-DE) issued a mixed statement, saying he was "encouraged that the Trump Administration has felt compelled to act forcefully," but was "gravely concerned" that there was no "well-thought-out, comprehensive plan."
Rep. Tulsi Gabbard (D-HI), who traveled to Syria and met with Assad a few months ago, harshly condemned Trump's action, saying it could lead to "a possible nuclear war between the United States and Russia."
---
Secretary General Antonio Guterres (serving as the ninth Secretary-General of the United Nations. Previously, he was the United Nations High Commissioner for Refugees between 2005 and 2015) urged restraint as Russia accused the US of encouraging "terrorists" in the region with its unilateral actions.
Russia has promised to strengthen Syria's anti-aircraft defences.
US officials say the base was used to launch a chemical weapons attack that killed dozens of civilians on Tuesday.
In the first direct US military action against Syria's government, at least six people are reported to have been killed.
Idlib's opposition-run health authority says 89 people, including 33 children and 18 women, died in the suspected nerve gas attack in the rebel-held town of Khan Sheikhoun. Syria denies using nerve gas.  –> Idlib is a city in northwestern Syria, capital of the Idlib Governorate, and 59 kilometers south west of Aleppo.
Russia's deputy ambassador to the UN, Vladimir Safronkov, told Friday's session in New York the US military's "illegitimate" missile strikes had encouraged "terrorists" in Syria.
"When you take your own path, this leads to horrible tragedies in the region," he told America.
US ambassador Nikki Haley said America had acted to ensure President Assad would never use chemical weapons again.
She blamed Iran and Russia for standing by the Syrian government when it committed crimes. "Strengthening Assad will only lead to more murders," she said.
The UK ambassador, Matthew Rycroft, said the US strikes were a "proportionate response to unspeakable acts".
---
America's weapon of choice: Analysis by Jonathan Marcus, BBC defence & diplomatic correspondent
Cruise missiles fly low and have a relatively small radar cross-section so they are difficult to destroy with air defences. Russia may seek to improve Syria's surface-to-air missile system in the wake of this US attack but it would be very much a case of shutting the stable door after the horse has bolted.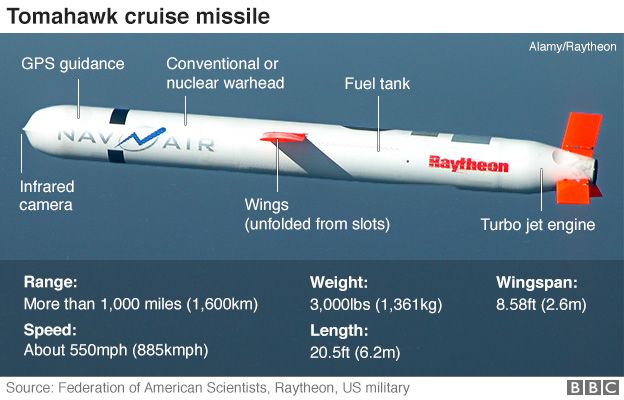 Syria used to have a highly effective national air defence system based on Soviet-era radars and missiles but it has been significantly weakened in the wake of the civil war and the loss of territory by the regime. Look at the ease with which the Israelis carry out strikes against Hezbollah arms convoys and weapons stores in Syria.
Russia has some of its most modern surface-to-air missile systems at its air base in Syria and radars with a huge reach but, for whatever reason, they too have not deterred Israeli strikes.
Their presence makes air strikes by manned US aircraft unlikely and for Washington the Tomahawk cruise missile will remain the weapon of choice
What do we know about the missile strike?
Two US Navy destroyers in the Mediterranean Sea fired 59 Tomahawk cruise missiles at Shayrat airfield in western Homs province at about 04:40 Syrian time (01:40 GMT).
They targeted aircraft, aircraft shelters, storage areas, ammunition supply bunkers and air defence systems at the Syrian government-controlled facility, according to the Pentagon.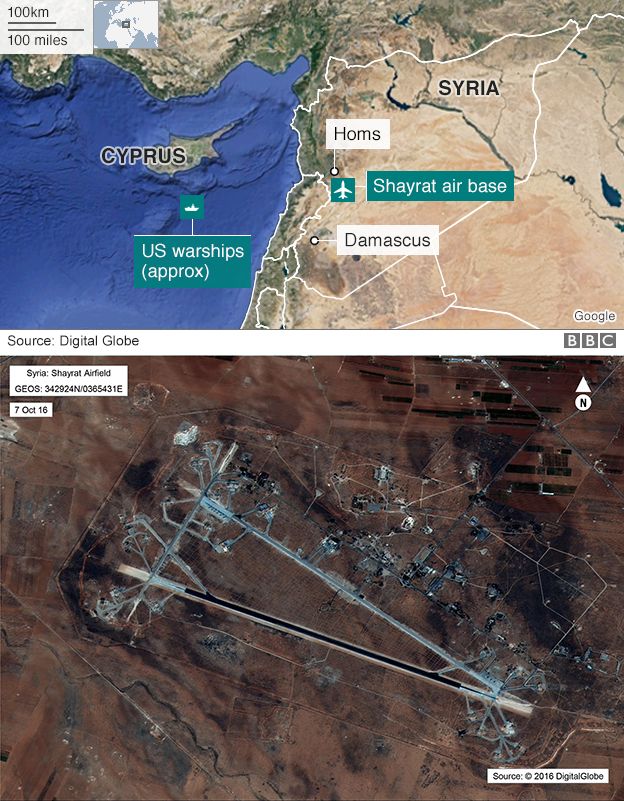 It said the base was used to store chemical weapons and that "every precaution" had been taken to avoid casualties. The Russian military was informed beforehand, the Pentagon said.
Speaking from his Mar-a-Lago estate in Florida, US President Donald Trump said in a statement that he had acted to prevent the use of chemical weapons.
Unnamed US intelligence sources have told media they believe Russian personnel were at Shayrat when Sarin was loaded onto a Syrian jet but they have not established whether the Russians knew it was happening.
Russia's military said many cruise missiles had failed to hit their intended targets.
What are they saying on the ground?
Retired civil servant Mateea Zefa, who lives about 800m (874yds) from the base, went with his children to look at the base afterwards and found it "totally destroyed".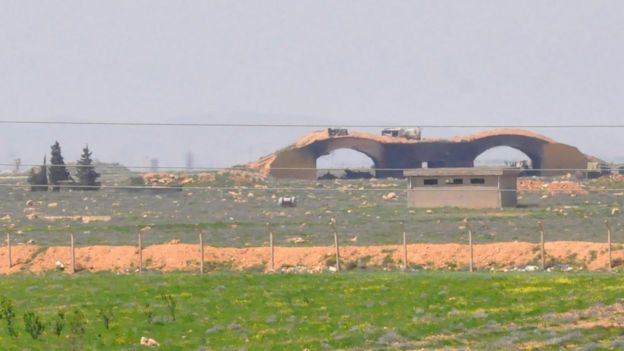 "We saw lots of bombs," he told the BBC by phone. "Loads of them. It was a tough night. My house was damaged, almost all the windows broke and some walls cracked."
Houses on one side of the base were also "totally destroyed", he added.
A nurse at Shayrat's hospital, Ammar al-Khidr, recalled being woken by "big explosions" at "around 03:30 or 03:45".
The dead and seriously injured were all soldiers, she said, adding that they had been brought to her hospital.
The Syrian army said there had been significant damage to the base.
What is different about this strike?
The US has led a coalition carrying out air strikes against jihadist groups in Syria since 2014 but this is the first time it has targeted government forces.
President Trump previously spoke out against US military involvement in Syria, instead calling for a greater focus on domestic interests.
Russia also suspended a deal with the US designed to avoid collisions between their air forces over Syria.
Russia also sent a frigate armed with cruise missiles, the Admiral Grigorovich, from the Black Sea to the Eastern Mediterranean on Friday, in what may be a routine move.
What do we know about the chemical 'attack'?
Hundreds suffered symptoms consistent with reaction to a nerve agent.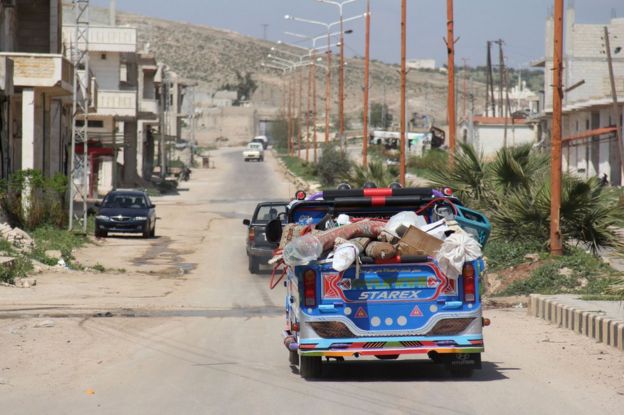 The White House believes the attack was launched from the Shayrat airfield.
Russia said a Syrian air strike had hit a rebel depot containing chemical weapons.
However, experts are sceptical about Russia's explanation.
Syrian opposition group the Syrian National Coalition called for further strikes in the future.
The UK government called it "an appropriate response to the barbaric chemical weapons attack"
Egypt urged both the US and Russia to take "effective action" to reach a comprehensive solution to the Syrian crisis